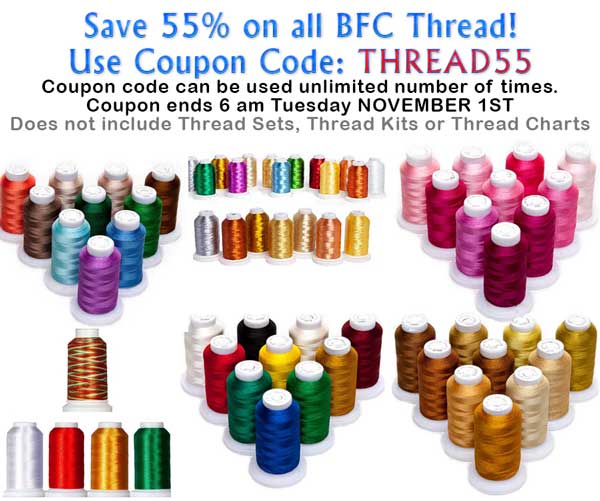 Go to Thread Categories
If any of you would like to get one of every color of the 1000m Poly thread but don't want to click all the links, please email me, at Suz@BFC-Creations.com and I will invoice you. This is only for all colors of our regular 1000m poly thread. 1M-2168, 1M-2169, etc

60% OFF
Bird Corner
Friday Specials Corner 60% OFF
Baby Farm Animals
Intro Price!
Designs by Suz
Baby animals can carry through many years from babies to older children. you can make quilts, clothing, blankets, and towels for example!

Baby Reindeer
Intro Price!
Designs by Fred
Cute and adorable and difficult to resist-perfect for Christmas time.

QIH Ribbon Square
Intro Price!
Designs by Chantell
This ribbon Square is provided with a built-in quarter-inch seam allowance, pieced and quilted in the hoop in one hooping. The display shows 4 squares joined together.

Designs by Suz
The Second Day of Christmas with text. Stitch them as shown with a satin stitch border that allows the designs to be stitched together or with a regular seam allowance in case you prefer to add sashing. If you purchase the first 11 Days, you will receive the 12th day for free!

The Witchery
Intro Price!
Designs by Suz
7 designs in set, not all shown above
You can use these designs individually or make flags, trick-or-treat bags, pictures, or a banner. I've included two possible layouts or make a big scene using all 7 designs!