BFC31983 Blue Footed Booby
During mating rituals, male Blue-Footed Boobies show off their feet to prospective mates with a high-stepping strut. The bluer the feet, the more attractive the mate. It's well worth checking out the Blue Footed Booby Dance on YouTube.  Though not listed as endangered its numbers have been reduced drastically in certain areas due to a sardine shortage.
I included the second image so you wouldn't make the mistake I did.  LOL  I thought the fabric was great until I saw it stitched - They lost their feet!   Be sure you put your blue thread on the fabric you wamt to use to be sure it will show up :)
1 design in 3 sizes MLJ  You get all three sizes when ou purchase. 
| | |
| --- | --- |
| MEDIUM | LARGE |
| | |
JUMBO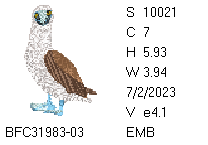 Customers who bought this product also bought
Customers who viewed this product bought